United States on the State Department's statement on the upcoming Tribunal in Mariupol
24 August 2022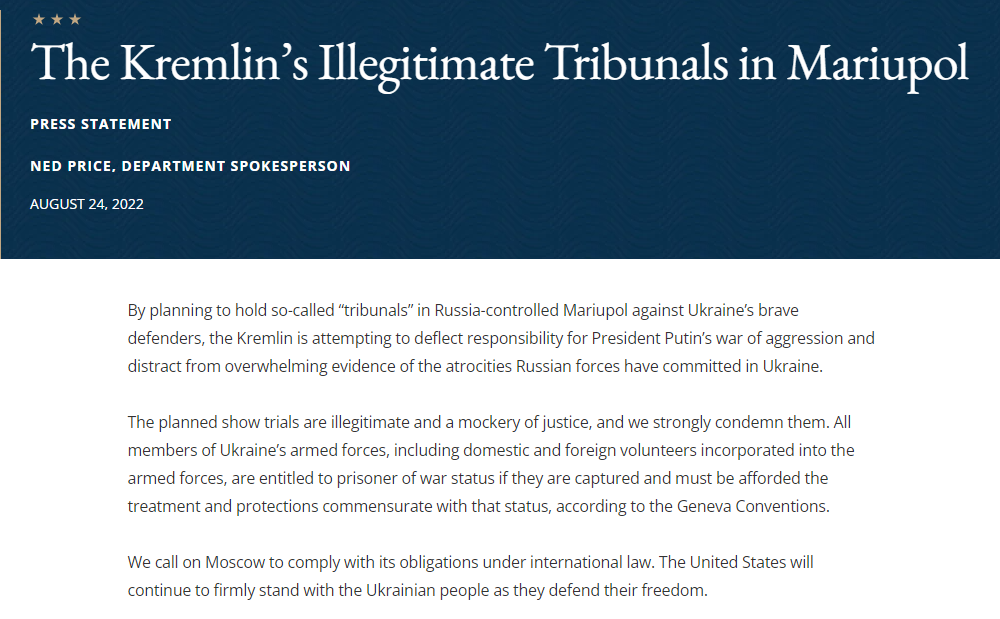 Source: https://www.state.gov/the-kremlins-illegitimate-tribunals-in-mariupol/
The Kremlin announced the collection of materials for the tribunal
25 August 2022
In the Russian-controlled Ukrainian territories, crimes of "nationalist elements" are recorded, the collected data will allow the criminals to be tried, said presidential press secretary Dmitry Peskov, RBC correspondent reports.
So he commented on the proposal of the head of the Investigative Committee Alexander Bastrykin to create a tribunal for those who committed a crime in Ukraine with the participation of "Russian partners" instead of an international tribunal under the auspices of the UN. According to him, the latter has no prospects due to the support of Kyiv by Western countries.
Source: https://www-rbc-ru.translate.goog/rbcfreenews/62de6c3a9a7947e1b162cddd?_x_tr_sl=auto&_x_tr_tl=en&_x_tr_hl=en
Russian MIL Discuss US Crimes Against Humanity at SCO Summit
24 August 2022
Russian Defense Minister, the highest ranking Russian military official only behind Putin, Sergei Shoigu, spoke at the meeting in great depth on the Special Military Operation in Ukraine, and goes absolutely scorched earth on the US and the activities of the Deep State. He goes over the reason for Russia's invasion, the Deep State biological network, the Nazi war-crimes, Taiwan, EVERYTHING!
Source: https://bioclandestine.substack.com/p/russian-mil-discuss-us-crimes-against
Russia charges Ukrainian troops with crimes against humanity, calls for international tribunal backed by Bolivia, Iran and Syria
24 July 2022
The government's Rossiiskaya Gazeta on Monday quoted committee head Alexander Bastrykin as accusing "more than 220 persons, including representatives of the high command of the Armed Forces of Ukraine, as well as commanders of military units that shelled the civilian population."
The Ukrainians were involved in "crimes against the peace and security of humanity, which have no statute of limitations," he said. Mr Bastrykin, whose committee probes major crimes, said 92 commanders and their subordinates had been charged, and 96 people, including 51 armed forces commanders, declared wanted.
Source: https://www.abc.net.au/news/2022-07-25/russian-investigator-wants-war-tribunal-for-ukraine/101266620
Clandestine's Newsletter
https://bioclandestine.substack.com/p/international-military-tribunals